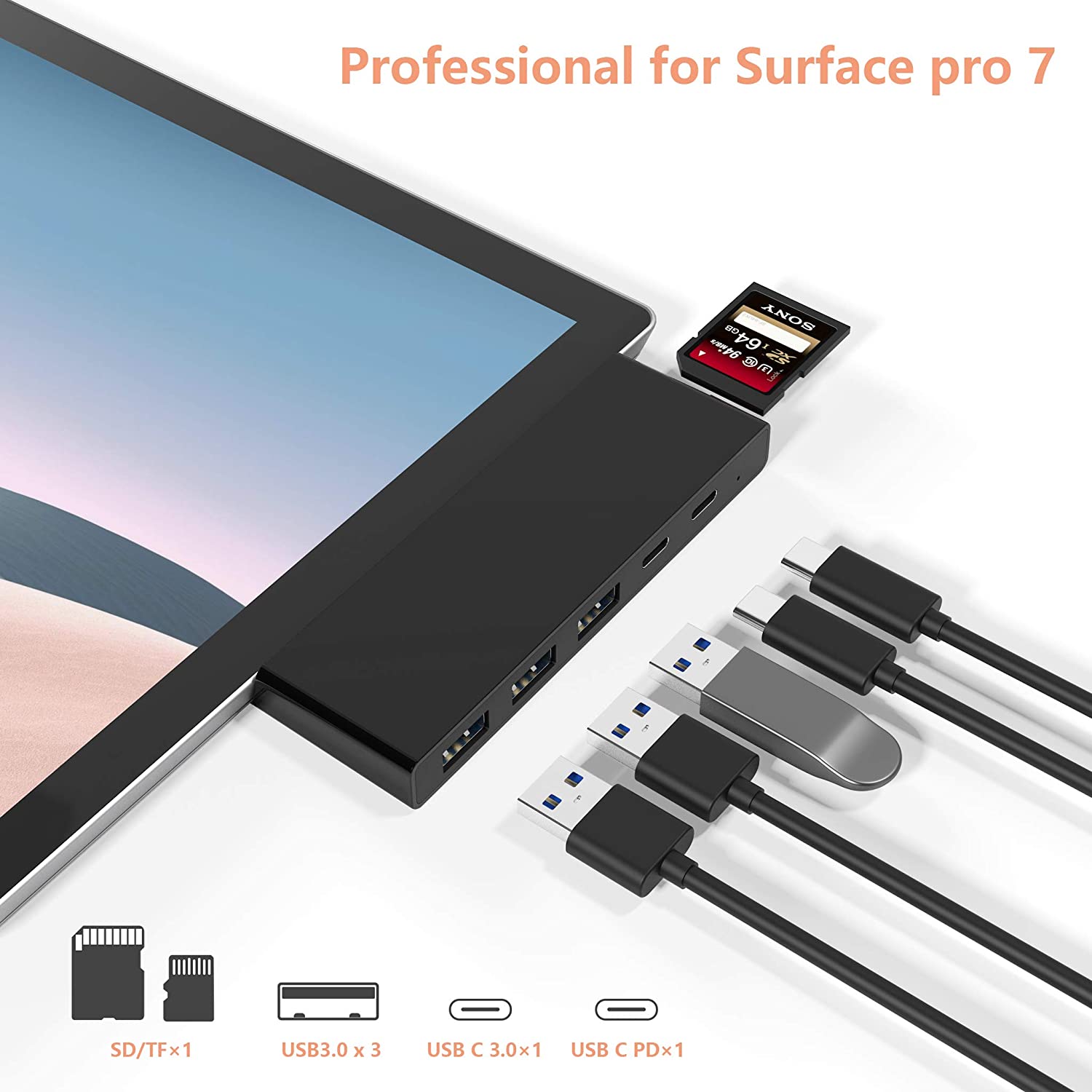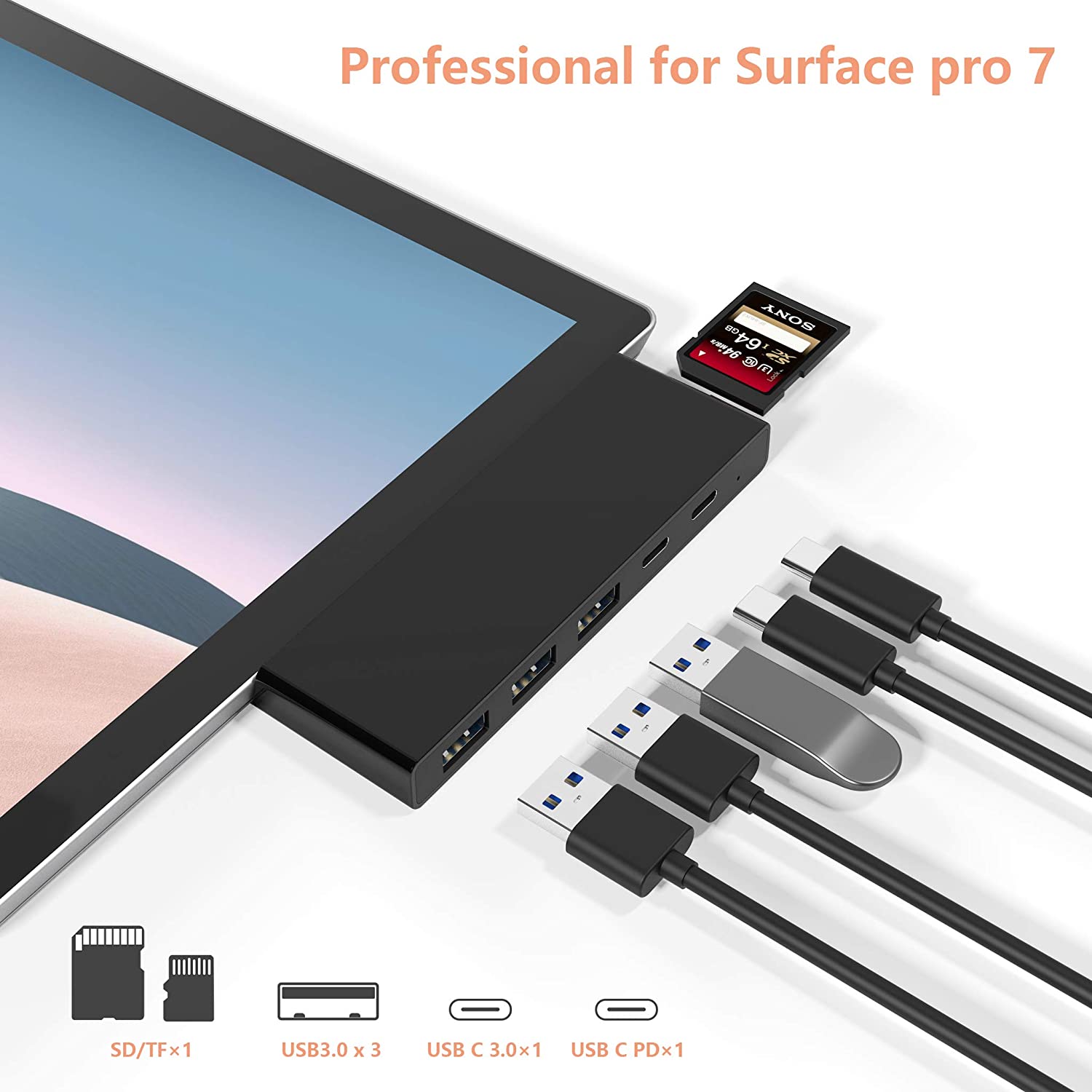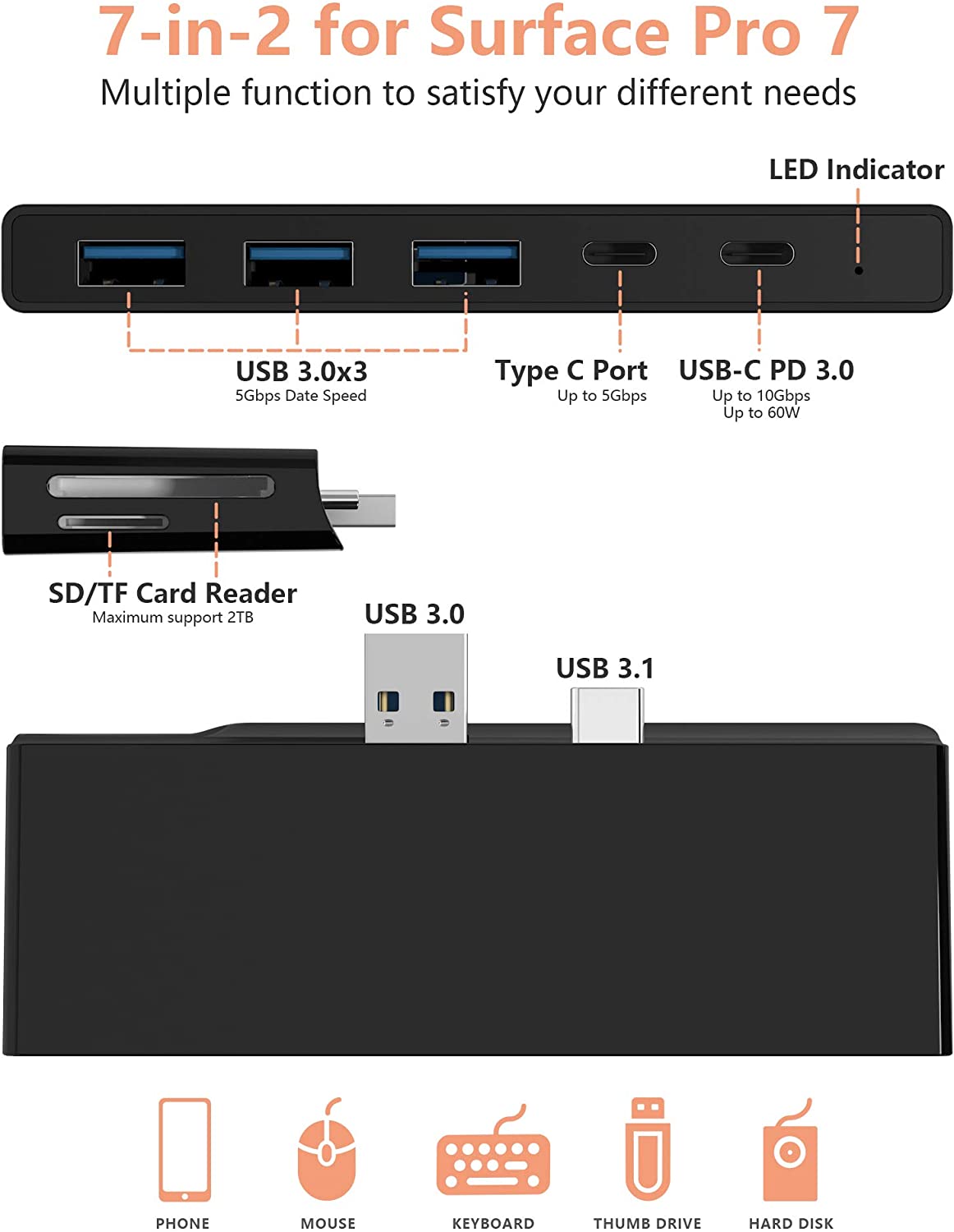 ---
{{ reviews.likes }}
{{ reviews.favorites }}
0
{{ reviews.views }}
Surface Pro 7 USB Hub with 2 USB C Port(Type-C Full Function Port&Data Transmission Port)+3 Port USB 3.0+SD/TF(Micro SD) Card Reader Converter Combo Adaptor for Microsoft Surface Pro 7
Price after Rebate
$14.00
$23.74
Tips
If there is a clipable coupon on the Amazon product page, please clip it when placing your order.
Procedures:

Features
💙7 in 2 Surface Pro 7 Docking Station: This Surface Pro hub adapter, expand your port options to 3 USB 3.0 port,2 USB C Port(TYPE-C Full Function Port&Data Transmission Port) ,1 SD Card Reader Slot, 1 TF Card Reader Slot. Matches perfectly with your Microsoft Surface Pro 7. *Note: Incompatible with Surface Go/ Surface Pro 4, 5, 6 / Surface Pro X.
Description
7 in-2 Surface Pro 7 HUB with Multi Ports of USB C PD 60W charging, 3USB3.0(5Gbps), Type-c (Audio & Data) interface,SD/MicroSD Card Reader for your MS Surface Pro 7 Why Choose Bawanfa surface pro 7 docking station? ✔1. USB 3.0 Super Speed Data Transmission This surface pro docking station with 3 USB 3.0 port, up to 5Gbps 10X fast than USB 2.0 hub(480Mbps). Transfer videos and images just in seconds, improve your efficiency. ✔ 2 USB-C Interface One TYPE-C Data Interface, supports maximum speed of 5Gbps,and downward supports USB2.0. One TYPE-C full-function Interface, supports PD60W charging and the maximum rate of 10Gbps. Allows Microsoft Surface Pro 7 to be charged while using the USB-C hub at the same time. ✔ 3. Small, Compact and Stylish This surface pro 7 hub is made from premium ABS materials that compliment the latest devices on the market; The adapter is compact and easy to fit into a pocket or bag. ✔4.Specification Material: ABS Compatibility: Microsoft Surface Pro 7 Input: 1 USB 3.0 port, 1 USB C port Output: 3 USB 3.0 ports, 2 USB C Port(TYPE-C Full Function Port&Data Transmission Port), 1 SD & 1 Micro SD card slots. System Compatibility: Windows 2000 / ME/ XP / Vista / 7 / 8/ 10/ MAC OS 10.X system. ✔5. After-sale service 12 month manufacturer's warranty and free lifetime technical support. ♡ Kindly Note ♡ 1,Do NOT recommend you charge phone/iPad through the USB port as the USB port can only offer 1.5A current to charge them slowly. 2,Incompatible with Surface Pro 4/5/6, Surface Go and Surface Pro X.